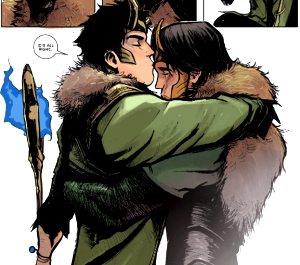 Fabela is especially smart in coloring Individuals Who Sit Above in Shadow. When they're angry, they grow more dark and much more defined, as though their rage means they are material, while — when they're sitting back — they fade to some gray much ghostlier than Verity's. Consequently, once they scuttle off in terror, the vacuum they bid farewell to feels both startling and fully coherent. Additionally, letterer Clayton Cowles drops their black speech balloons, presented without directional tails, in unpredicted corners and places. It can make it look much more like Individuals voices are of all the directions, instead of particularly using their mouths.
A lot of the plot involves wonderfully metaphorical-philosophical flimflam that may easily feel too precious in another context or any other writer's hands. With Loki delivering lines like "Maybe some tales are extremely good…so powerful…that the world believes them" and consoling nested versions of themself, "Agent of Asgard" #17 really applies to the large, theoretical questions and mad, no-explainers-offered metaphysics. However, Ewing makes it obvious through the run that Loki is really a character to whom the literary is literal questions of story, truth and just how individuals both get made are existence-figuring out. There's really no better series to experience unapologetically using these ideas and, consequently, the emotional payoff is equally as satisfying because the "A-ha!" (I possibly could also write an entire essay about the usage of wonderful Verity Willis, that has probably the most believable, honest reactions associated with a mere mortal within the Marvel World. I really hope we see much more of her soon.)
Another strength from the issue (as well as the series in general) is when the creative team integrates and cherry-picks Loki's lengthy, convoluted past. Indeed, the entire premise of issue #17 pulls from issue #1's meaning of magic: "telling a tale towards the world so absolutely, cosmically perfect that for any single, shining moment…the world believes." You will find a large number of other call-outs, from Loki's "Would you realize more?" taunting as an Edda seeress towards the MCU-searching scepter. In a single sense, they are fun Easter time eggs, however that feels just a little cheap for the way they really work Loki is remaking themself from his past pieces, so the representations of individuals pasts around the page can also be vital that you the plot.
To conclude, "Loki: Agent of Asgard" #17 is a perfect series ending that stays in keeping with its very own arc while departing lots of space for the following creators to experience. "Agent of Asgard" were able to dramatically change a character's established order not by tossing out all of the difficult continuity that came before, but because they build on individuals tales to make a better arc. When individuals ask exactly what the benefit of lengthy continuity is, I'll point these to this series.
Resourse: http://cbr.com/loki-agent-of-asgard-17/
Loki Agent Of Asgard #17 Final Issue