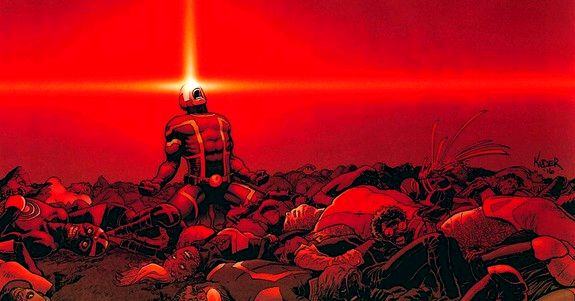 Credit: Marvel Comics
Credit: Marvel Comics
30 new series, 29 coming back series from "All-New All-Different Marvel," along with a Point One issue: this is the full spread from the "Marvel NOW!" initative starting in October. After some of it leaked on Monday, the entire catalog has been provided at comic retailers worldwide, as well as available at Newsarama.
Be aware these titles aren't always all launching in October, which other titles unlisted here could still come in the October 2016 solicitations scheduled to be sold later this month. In addition, Marvel has confirmed that additional "Marvel NOW!" titles is going to be announced later on.
The brand new titles are:
• Nova #1 – no creative team announced, however the image is as simple as Francesco Mattina
• Gamora #1 by Nicole Perlman & Marco Checchetto
• Hawkeye #1 (starring Kate Bishop) by Kelly Thompson & Leonardo Romero
• Iron Fists #1 by Kaare Andrews & Afu Chan
• Kingpin #1 by Matthew Rosenberg & Ben Torres
• Rocket Raccoon #1 by Matthew Rosenberg (no artist announced)
• Bullseye #1 by Erectile dysfunction Brisson & Guillermo Sanna
• Amazing Spider-Man: Renew Your Vows #1 by Gerry Conway & Ryan Stegman
• Avengers #1 by Mark Waid & Mike Del Mundo
Credit: Marvel Comics
• Occupy Avengers #1 by David Master & Gabriel Walta
• U.S.Avengers #1 by Al Ewing & Paco Medina
• Ultimates2 #1 by Al Ewing & Travel Foreman
• Great Ponds Avengers #1 by Zac Gorman & Will Robson
• The Unstoppable Wasp #1 by Jeremy Whitley & Elsa Charretier
• Venom #1 by Mike Costa & Gerardo Sandoval
• Avengers #1.1 by Mark Waid & Craig Kitson
• Physician Strange: Sorcerers Supreme #1 by Robbie Thompson & Javier Rodriguez
• Star-Lord #1 by Nick Zdarsky & unnamed artist
• Slapstick #1 by Reilly Brown, Fred Van Lente & Mike Norton
• Solo #1 by Gerry Duggan, Geoffrey Thorne & Paco Diaz
• Foolkiller #1 by Max Bemis & Dalibor Talajic
• Prowler #1 by Sean Ryan & Jamal Campbell
• The Clone Conspiracy #1 by Dan Slott, Christos Gage & Giuseppe Camuncoli
• Dying of X #1 by Shaun Lemire, Charles Soule & Aaron Kuder
• Thanos #1 by Shaun Lemire & Mike Deodato
• Champions #1 by Mark Waid & Humberto Ramos
• Cage! #1 by Genndy Tartakovsky
• The Not worthy Thor #1 by Jason Aaron & Olivier Coipel
• Captain Marvel #1 by Margaret Stohl & Ramon Rosanas
• Mosaic #1 by Geoffrey Thorne & Khary Randolph
• Jessica Johnson #1 by John Michael Bendis, Michael Gaydos & David Mack
• Infamous Ironman #1 by John Micheal Bendis & Alex Maleev
• Invincible Ironman #1 by John Michael Bendis & Stefano Caselli
Credit: Marvel Comics
Ongoing titles from "All-New All-Different Marvel" are:
• Guardians from the Universe #15 by John Michael Bendis & Valerio Schiti
• Spider-Man #12 by John Michael Bendis & Sarah Pichelli
• Uncanny Avengers #15 by Gerry Duggan & Pepe Larraz
• Black Panther #7 by Ta-Nehisi Coates & Chris Sprouse
• Thunderbolts #7 by Jim Zub & Jon Malin
• Physician Strange #12 by Jason Aaron & Chris Bachalo
• The Unbeatable Squirrel Girl #16 by Ryan North & Erica Henderson
• Patsy Master A.K.A. Hellcat! #11 by Kate Leth & Brittney L. Johnson
• The Totally Awesome Hulk #15 by Greg Pak & unnamed artist
• Silk #13 by Robbie Thompson & Tana Ford
• Deadpool & The Mercs For The Money #4 by Cullen Bunn & Iban Coello
• The Mighty Thor #15 by Jason Aaron & Russell Dauterman
• Moon Girl & Demon Dinosaur #13 by Amy Reeder, Brandon Montclare, & Natacha Bustos
• Moon Dark night #20 by Shaun Lemire & Greg Smallwood
• Ms. Marvel #12 by G. Willow Wilson & Takeshi Miyazawa
• Punisher #7 by Becky Cloonan & Steve Dillon
• Silver Surfer #9 by Dan Slott & Mike Allred
• Spider-Gwen #15 by Jason Latour & Robbi Rodriguez
• Spider-Man 2099 #21 by Peter David & Will Sliney
• Spider-Lady #13 by Dennis Hopeless & Veronica Fish
• Squadron Supreme #13 by James Robinson & Leonard Kirk
• The Unbelievable Gwenpool #7 by Christopher Hastings & Gurihiru
• Uncanny Inhumans #15 by Charles Soule & Kev Master
• Captain America: Steve Rogers #7 by Nick Spencer & Jesus Saiz
• Captain America: Mike Wilson #14 by Nick Spencer & Daniel Acuna
• Power Man & Iron Fist #10 by David Master & Sanford Greene
• Deadpool #21 by Gerry Duggan & Mike Hawthorne
You will see a hyperlink to all the pages in the catalog here. Stay tuned in to Newsarama for additional info on "Marvel NOW!"
Resourse: https://newsarama.com/
Mighty Thor #16 Comic Smack
Video COMMENTS:
Amazing Zero: Gladiator a old school marvel power house him getting bitch 👋🏾 slap had me like 😮😮😮
BrownDog 40: Spaceships vs. Viking Long-ships… God I love comics :)
Notsosmartguy 625: You know I wish Marvel would explore the gods of the other aliens races such an awesome concept. Kinda weird seeing a cosmic and fantasy mix together like this. 
Ungreatful Duck: So, if their point is "we are better gods than the Asgardians", shouldn´t they find and fight AN ACTUAL ASGARDIAN GOD? First she takes the name of Thor because fuck you, and now we are suppose to believe she´s a god because fuck you? I´m done with this comicbook, It started really good but as always with Aaron, great start for the story, no direction or end game previously though out, at this point is clear he doesn´t fucking now what Fury whispered to Thor, he doesn´t care, he´s not gonna tell us, and he´s happy writing the two Thor titles, I´ll make it easier for him to choose one by buying Unworthy Thor and ignoring Jane´s Thor, enough is enough and I can´t stand how frequently the title is shitting on Thor´s continuity. Besides she has cancer and each time she transforms the chemo therapy treatment lose it´s effect, why does she has the treatment then? DOes she likes the loss of hair for free or WTF? I have family members and friends that are survivors of cancer, and the approach this comic has to cancer is starting to feel awkward and insulting, NOBODY with a deadly cancer like the one Jane claims to have survives very long with no treatment, even with the treatment you´re still at risk of dying. That´s why people freaks out and celebrates when somebody with advanced cancers manage to survive for more than a couple months, there are cancer that are basically a 6 month death sentence, but Jane doesn´t get the result of the treatment, doesn´t gets worst, doesn´t die… I haven´t see her vomiting, filled with apathy or even have doctors recommend her to smoke weed so that her hunger can become stronger than her repulsion to most food. If the idea to give her cancer was to portrait the disease, inform, or anything other agenda other than make people emotional trough a character that never had any relevance other than making Thor horny when he wasn´t fucking Sif.\n\n\nPD: Also Joel, no men, Thor comics aren´t about "cape and sword" since the days of Stan Lee, Thor is an intergalactic character since Walter Simonson, seriously dude, you keep saying you love how Thor is now a space adventure comic and how Thor should become the next Odin for the future of the series, as if none of those things never happened before a gazillion fucking years ago. Is Jason Aaron your only expose to the God of Thunder? ´Cause you make it sound like it when you says things like that.
Zeta Rise: Jane Foster Thor is just so amazing, it's been one of my favorite titles along with Hellcat and hopefully soon America when it starts.\n\nThis issue was full of so much goodness, messing with a God of Fear, Jane being human and looking at what Gods should do through her own perspective is really nice.
Zorastorm 32: @2:09. Hey, it's Rosie O'Donald
Toxic Hazard: so is this a side ways comic or its it a regular comic?
Zorastorm 32: I want to see Thor Odison come in, and save Jane, like the classics\n\nHe is the Superior Thor, now that he has Ultimate Mjolnjr
Sora Shiun'in: wow Gladiator how far have you fallen bro used to go one on one with X-Men how you can smack like a b**.who the hell thinks this council is a good idea to counseling didn't even work for Star Wars.
Distortion Reaper: I like this issue but hate the cover because I hate sideways covers