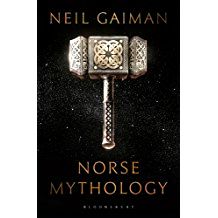 Regardless of whether we always like what he is doing, one factor we all do think fairly consistently is the fact that Neil Gaiman is a type of pop star. Now, you could have that to mean that he's an outstanding figure inside the literary firmament, and that might be true, but we mean another thing too. What we should mean to state is, if Neil Gaiman would be a music performer he then wouldn't be a hard music performer. He'd not be the type of person anybody battled with, a person you'd be prepared to challenge you. You'd expect intelligence, sure (we're not to imply he's the Vengaboys), but he'd be somebody who enjoyed the constraints from the form even while he excelled within them. He's a type of folktales Beatle, then (or perhaps a folktales ex-Beatle, a Paul McCartney). That is a compliment right (despite the fact that we all know that McCartney has had as numerous hits as misses, his hits will always be pretty seismic, as far as that misses could be largely pardoned).
Nowhere is that this more in evidence compared to Norse Mythology. I do not suspect this is actually the type of book that fans (or students) of Norse mythology would look for because the definitive word. I believe that this is actually the type of book Gaiman fans will look for, with perhaps a passing understanding of Odin, Thor, Loki et al (if we're being honest, it might be that most individuals who read this is basing their Norse understanding on Marvel comics – and that's ok, it's the way i found them, it's how Gaiman found them, it's the right place to begin). It might be that this is actually the type of book which will introduce Gaiman fans to Norse mythology (his mention of the Roger Lancelyn Green's book, Myths from the Norsemen, within the introduction is interesting – Gaiman see clearly and loved it growing up, but "I didn't dare go back" as he found writing their own undertake things). What this isn't is comprehensive. What you'll get for the money is 16 relatively short retellings of famous tales, told – it needs to be stated – having a seeming effortlessness which means you lap in the book within hrs. Now, we say "seeming effortlessness" understanding that within lies Gaiman's skill. It requires, we're sure, lots of work to create a story feel easy within the telling. This is exactly what we mean by pop, though. Gaiman is pop.
To start with, there's some scene setting (for that newbies). So Gaiman introduces us towards the principal players ('The Players'/'Before the start and after') and explains the world by which these tales operate ('Yggdrasil and also the nine worlds') With regards to the tales we obtain, there are several hits – the story of Thor's hammer, Mjolnir, for example, which graces the coverage from the book ('The treasures from the Gods').  There may be the story of Fenrir the wolf (in 'The Kids of Loki') which delivers the type of terror Gaiman is really a past master of (i was advised from the Corinthian from Gaiman's epic Sandman). You will find tales here that echo other tales, because they without doubt did or were intended ('Hymir and Thor's Fishing Expedition' for just one, which seems like a unique retelling of Fionn mac Cumhaill). You will find tales here that land – as Gaiman, we're sure, intended – having a sad, contemporary resonance, for example 'The Master Builder' which concerns regarding a wall, "high enough to help keep out frost giants. Thick enough that does not the most powerful troll could batter its way through." (Regrettably the Gods get their wall plus they trick the individual they reach construct it. Jesse could learn more worrisome training.) And, as you'd without doubt expect, Gaiman wraps some misconception with 'Ragnarok' (coming full circle when it comes to preparing us for the following motion picture outing of Marvel's Thor whose own Ragnarok is hitting screens in October 2017, without doubt prior to the paperback).
It's all immense fun, obviously, and merely the only downside would be that the fun ends too early. Should you place this book alongside Philip Pullman's Grimm Tales, that was hefty and substantial, you cannot help but wish Gaiman had got stuck into roughly the equivalent tales again (you will find thousands he might have selected) to provide us a magazine roughly two times how big it we've. Sometimes less is much more – but may more is much more too. But hey, maybe Gaiman will treat us with a more in the future. We're prepared to be polite. (We heard him as he stated George RR Martin isn't our bitch we all know that Gaiman isn't our bitch either.) We'll just enjoy what we have. And recommend it for you personally too. It's pop but you'll enjoy it.
Any Cop?: Neil Gaiman provides for us a covers album of Norse myths. What's to not like?
Resourse: https://bookmunch.wordpress.com/2017/02/08/whats-not-to-like-norse-mythology-by-neil-gaiman/